Samsung Galaxy J7 (2016) SM-J710FZKDPAK CPU Speed 1.6GHz OCTA Core 5.5 inches Display Android OS 13 MP Back Camera 2 GB RAM 8GB ROM 5 MP Selfie Camera Dual SIM
Samsung Galaxy J7 (2016) SM-J710FZKDPAK CPU Speed 1.6GHz OCTA Core 5.5 inches Display Android OS 13 MP Back Camera 2 GB RAM 8GB ROM 5 MP Selfie Camera Dual SIM
Samsung Galaxy J7 (2016) SM-J710FZKDPAK CPU Speed 1.6GHz OCTA Core 5.5 inches Display Android OS 13 MP Back Camera 2 GB RAM 8GB ROM 5 MP Selfie Camera Dual SIM
Price:

$0.00

SKU:

Vendor:

Brand:

Weight:

0.17 KGS

Rating:

Availability:

Shipping:

Calculated at checkout

Current Stock:

Gift Wrapping:
---
---
Product Description
SM-J710FZKDPAK
Galaxy J7 (2016)
Powerfully elegant
Let the light in
Look great in every frame
color Black Gold
(Main Display) 5.5" (139.5 mm)

Size

Main Camera - Resolution CMOS 13.0 MP

Weight (g) 169

Standard Battery Capacity

3300

(mAh)

Audio Playback Time Up to 96

(Hours)

CPU Speed 1.6GHz
5.5" (139.5 mm)
Size (Main Display)
CMOS 13.0 MP
Main Camera - Resolution
3300
Standard Battery Capacity (mAh)
Powerfully elegant
Strong enough to support its good looks. Its beautifully uniform, all-metal integrated frame protects against peeling for just the peace of mind you need to admire your device for a very long time.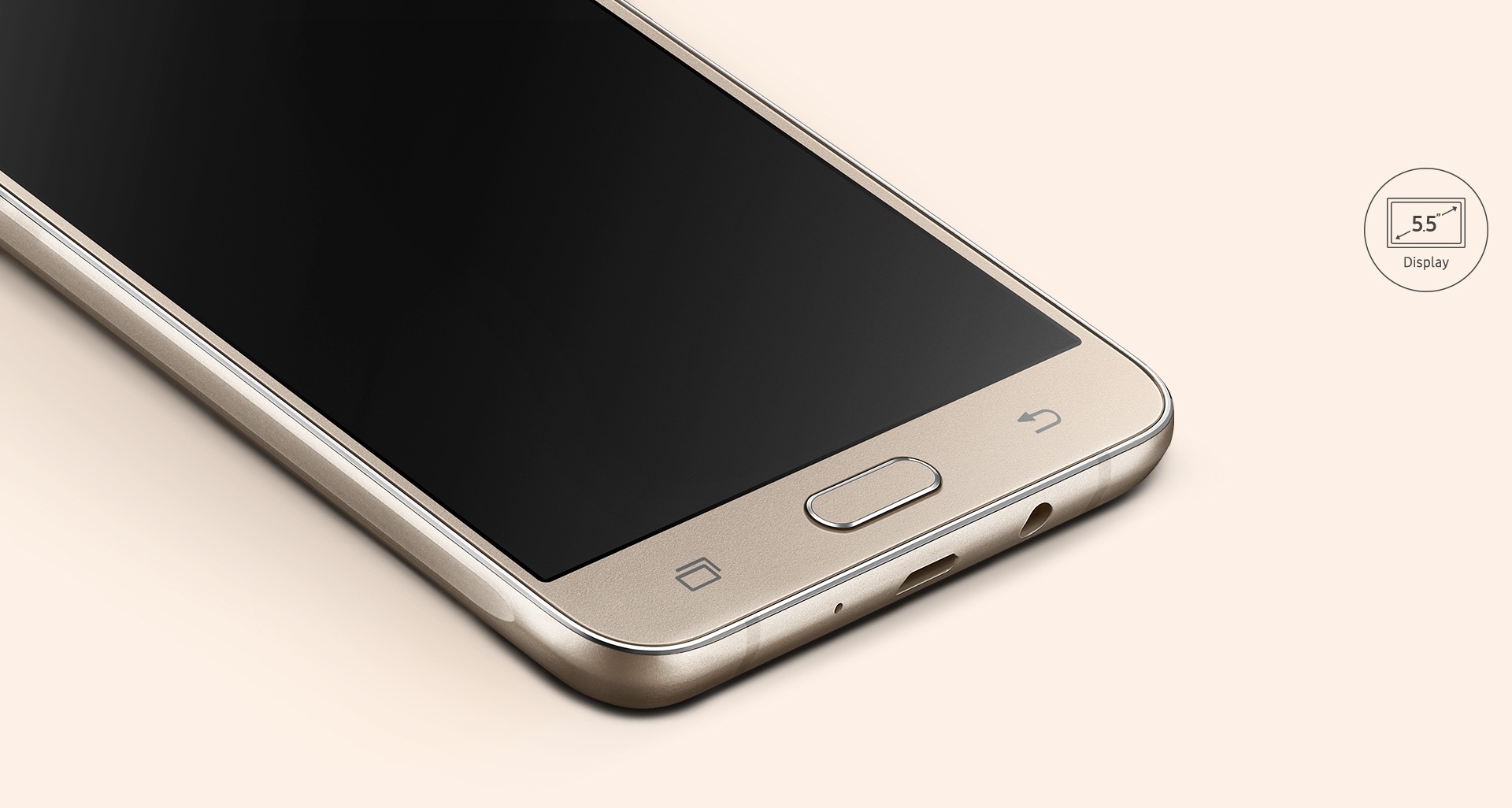 Let the light in
Capture life at its best. Enjoy the clearest possible photos in even the darkest of conditions with its superior and fast F1.9 lenses for both rear and front camera. Better yet, simply double tap the home button to access the camera.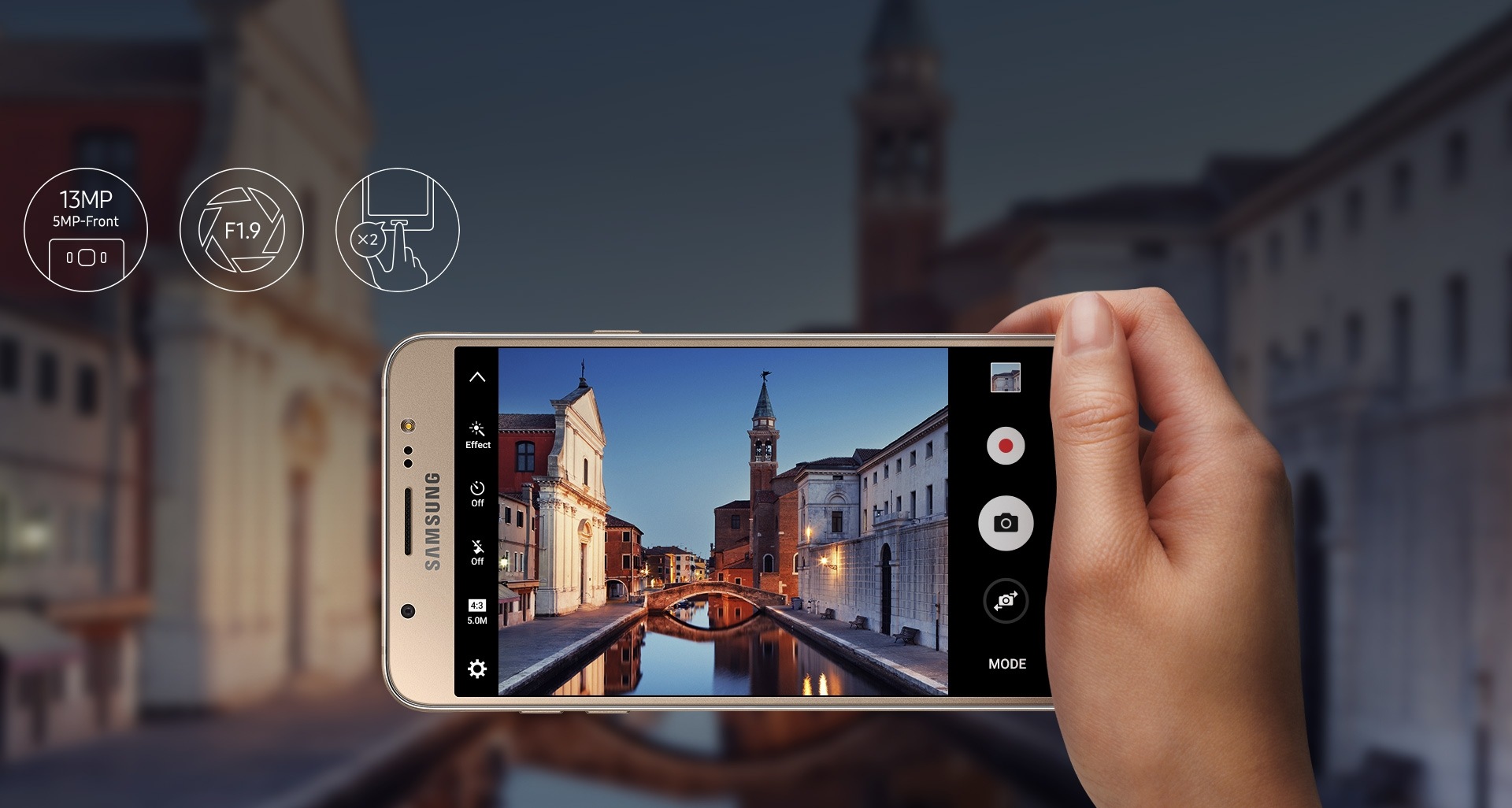 Look great in every frame
Shoot your best side against an even wider backdrop, every time. Both Front LED and Beauty Mode keep you looking great in the best possible light while Palm Recognition sets up the perfect shot in a matter of seconds.
Everything in its right place
A wealth of information at a moment's notice. Instantly access all your phone's essential information, including battery status, storage, RAM, and device security whenever you need it most.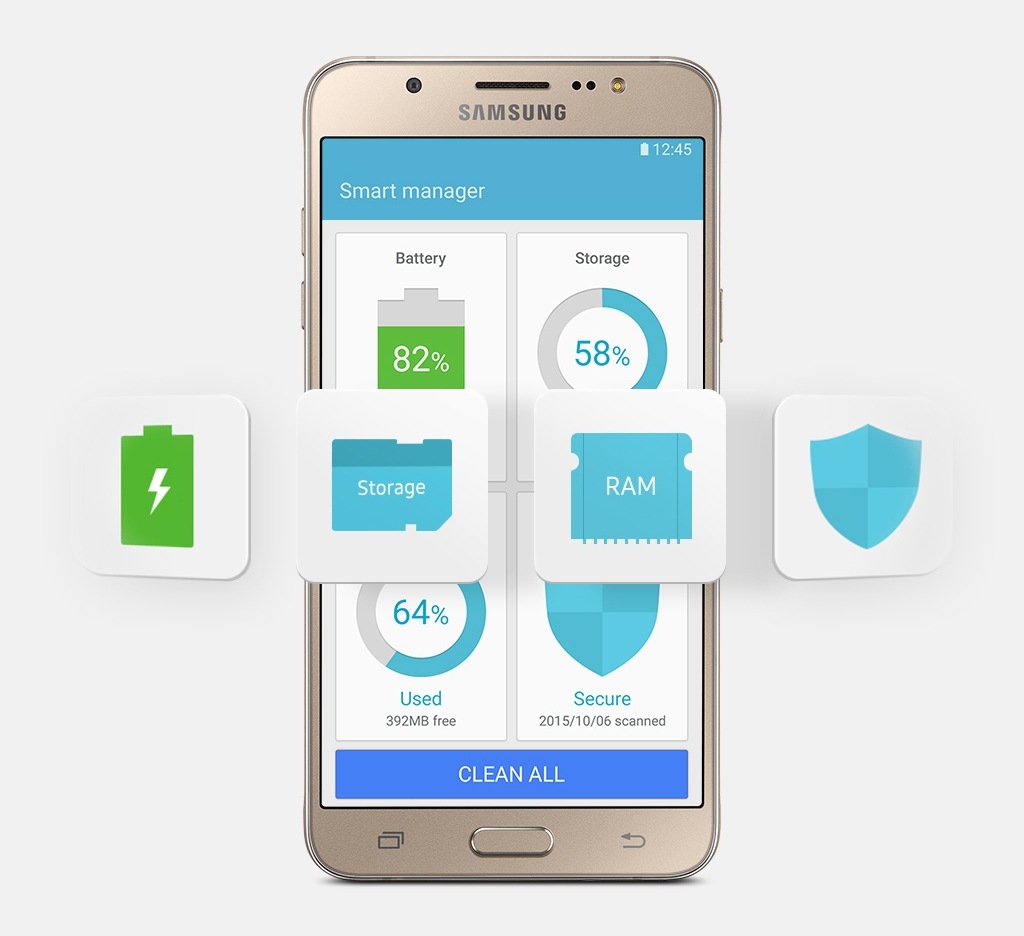 Let the good times last
Its long-lasting, industry-leading battery with Ultra Power Saving Mode keeps all your favourite applications performing smoothly over the long run so you never have to lose sight of what's on screen.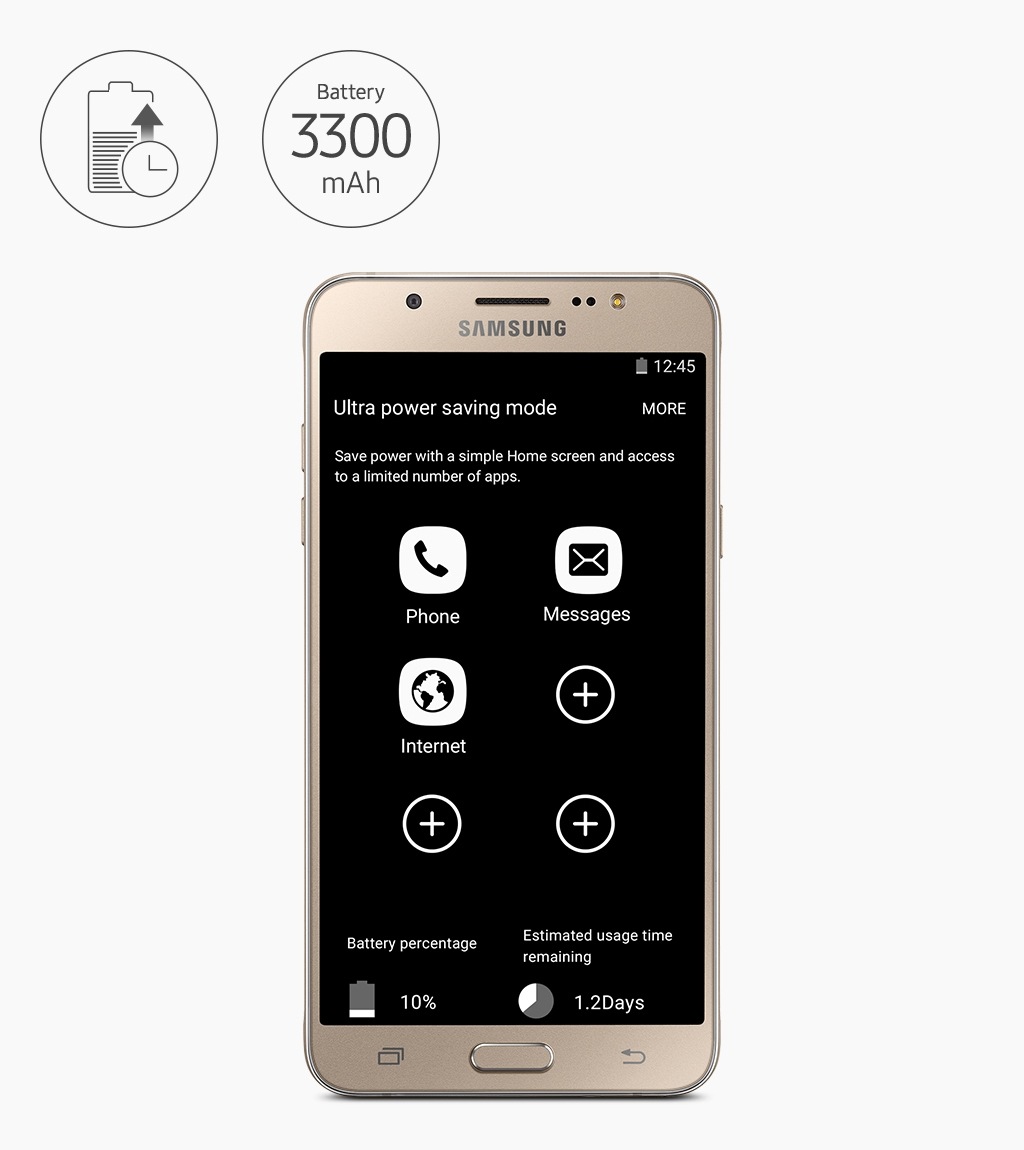 The month of March is of significance importance to Samsung. This is the month when Samsung releases its latest flagship and a number of other smartphones which add to its already huge arsenal of devices. Some, like the Galaxy S7 are monsters while others are in the more economical price range.
For people who like to be in the middle, Samsung decided to bring in the A and J series which offer great specifications and good looks but on the other hand a more affordable price. The Samsung Galaxy J7 2016 is the crown of the J series but has it got enough to make your pocket above other smartphones?
The Galaxy J7 has a close relationship with its predecessor, the Galaxy J5, with minor differences which include a bigger screen size. The J7 has a 5.5 inches 401 ppi pixel density Super AMOLED capacitive touchscreen which overpowers the smaller and lesser ppi screen of the J5. It also has a better processor and more RAM as it is supported by Dual-core 1.8 GHz Cortex-A72 & quad-core 1.2 GHz Cortex-A53 with 3GB RAM. This is where the real difference comes into play and incline people towards the Galaxy J7.
The camera has a muscular 13 megapixel and f/1.9 aperture sized lens which is another of a long list of excellent Samsung cameras. The secondary camera has 5 megapixels and similar aperture making it a good choice to fulfill your selfie needs. This camera is gonna make you take a lot of photos and make videos but you do not have to worry about running out of storage at all. Galaxy J7 supports 16GB of internal storage with the option to expand it further to 128 gigs through the expandable card slot.
The Samsung Galaxy J7 is going to hit the markets soon. We like the schematics of it but feel that the phone could've had a better look. We personally do not like how it is shaped up at the back. You can definitely look elsewhere for better options but if we get our personal opinions out of the way, the Galaxy J7 is a good fit for anyone who doesn't want to spend that much but also would like a very big screen.
---
Warranty Information
One Year Samsung Official Brand Warranty
---
Find Similar Products by Category
---